This subject matter is without a doubt, something that virtually everyone at Smith Mountain Lake can benefit from…. refurbishing your outdoor wood furniture.  So, we're getting ready for summer.  We've given the boathouse a once over with the broom and some possible touch-up paint.  We cleared the cobwebs out from under the decks and cleaned the windows to a new sparkle so we can enjoy our beautiful lake views. 
Now let's go outside and have a seat and enjoy the first efforts of mother nature to welcome us into the summer season!  You've got a cool drink in hand and maybe a good book and then you go to sit down on your comfy deck chair and OUCH! Your wonderful wood patio furniture that's was left outside for the winter months has turned into something that looks and feels something more like an old relic.  How can we get back those comfortable old favorites we've spent so much time in over the past years?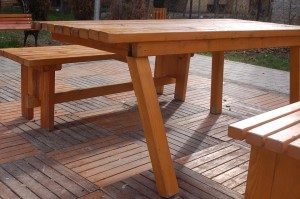 Our friends at HGTV have published an article that outlines all the steps (and there really aren't that many) to bring back your outdoor furniture to a new looking, ready for summer, status.  It just takes a little time and it's well worth the effort.
It's a one-page, straight-forward, easy-to-follow set of instructions that will end up saving you a lot of cost and hassle (where else do you think you can find that furniture that took you so long to pick out in the first place?).  Here's a link to the entire article. Summer is almost here! Impress yourself and everyone else with a fresh new look on your deck or back yard. You can do it!