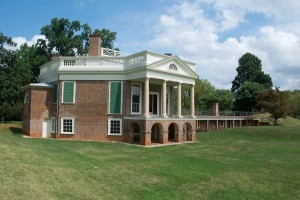 Thomas Jefferson, the 3rd President of the United States, had one of his two homes near Smith Mountain Lake, Virginia. While his home in Monticello was perhaps better known, Poplar Forest was his home away from home, and one of his favorite places to go to relax and escape the stress of politics. Jefferson had Poplar Forest designed and built after his presidency as a private retreat and one of his most valued possessions. It is a most interesting home for several reasons, one of which is that it is octagonal or 8-sided, very architecturally unique, and ahead of its time.
President Jefferson, one of our founding fathers, was born in 1743 and at the age of 33 drafted the Declaration of Independence. He also wrote the bill which established our religious freedom, enacted in 1786. And in  1807, Jefferson signed into law a bill that stopped the importing of slaves into the United States. At the Poplar Forest, you will also learn many other fascinating details about Thomas Jefferson and his life and family.
As the weather begins to warm, maybe you would enjoy a drive out to see Thomas Jefferson's restored Poplar Forest Home. It is located on 50 beautiful acres (a remnant of the original 4,000) on Rt. 661 off Rt. 460 in Bedford County. It is open from March 15th through December 15th each year. You can call 434-525-1806 for more information, or visit http://www.poplarforest.org/.
Free Download
The Definitive Guide To Smith Mountain Lake Real Estate
Everything you need to know about buying or selling property at Smith Mountain Lake.