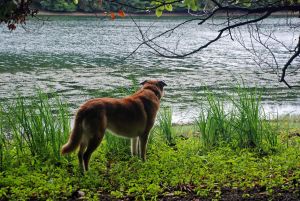 Buying A Waterfront Lot at Smith Mountain Lake… where Do I Start?
Many buyers at Smith Mountain Lake want it all and I can't blame them. They want the ideal home on the right lot with a great view in the perfect location and are willing to pay for it. If this describes you, you may wish to build your own home. If you do plan to build, one of the first and most critical steps is to find the right lot. Keep in mind that most of the value of a property is based on the inherent value of the lot rather than the quality of the home on it, so your search for a lot should not be taken lightly.
The first step I recommend is to go back and review an earlier section on how property value is derived at Smith Mountain Lake. There I lay out seven key factors that drive the value of most waterfront properties here. These factors are:
(1) View
(2) Slope
(3) Waterfront (may include shoreline length, water depth, water quality, beach, erosion control, dock, etc.)
(4) Home
(5) Location
(6) Cove versus Main Channel
(7) Size of Lot
Of course, your criteria may be different or have a different order, but these seem to be what most buyers value in a waterfront home. Even if your standards are different, please consider the criteria above so your home value will not suffer from value impediments when you want to re-sell it.
Once you have determined your priorities, you will probably begin to research online which waterfront lots are available. Though this is a great way to start your search, you will soon realize it is difficult to get an accurate idea of the quality of a lot solely from online photos and descriptions. You will need plats, numerous photos, information on septic tests, dock permits, and more, but much of this information is not available without some digging. One popular online site is Realtor.com, which regularly updates all the listings for MLS properties in the United States. My realty team has put together www.SMLLots.com, which has details on waterfront lots. Through this site, you can look at quite a few premier lots that we and other realty agents have listed here at the lake. Many of these lots include plats and other detailed descriptions and photos. This site is a portal to all the lots and other properties listed on the local MLS. This service (which is provided through the local MLS) allows you to search a property database similar to that used by REALTORS®.
The next step will be for you to engage the services of a REALTOR® who specializes in waterfront lots. Many Smith Mountain Lake agents do a fantastic job with waterfront lots. I bought several lots through other agents in years past, and I had many good experiences — and few bad ones. Make sure you ask a lot of questions about their knowledge and skill. I have written a detailed section about how to find a buyer agent at Smith Mountain Lake, and it will be helpful to review that information as you do your research. I hope you will include the agents from my team in your interview process. You can reach us at 1-877-SML-LOTS.
When you begin looking at lots, you will find it helpful when the lots are at least partially cleared, well marked at the road and shoreline, and include a plat that is easy to follow. Unfortunately, many lots are not this way. Though this can be frustrating in your search process, it can also provide an opportunity. If you can see past the underbrush and overgrown trees if you can make your way through the briers if you can examine survey plats, match GIS maps and aerial photos (available from the county website) to the road and shoreline contours, and imagine the view when the lot is cleared, then you may find a diamond in the rough. Many lots are not staged and marketed to easily display their beauty, and buyers are moving too fast to take the time to notice. It is easy to get frustrated and keep moving and miss a lot of your dreams. The opportunity here is compounded in your favor because you can be the buyer who finds the lot that other buyers overlooked, the one that sat on the market and dropped in price because the owner did not mark the boundaries, clear a path, or open up the view. I have helped several buyers find lots like this. They are out there and it is your job and the job of your Smith Mountain Lake REALTOR® to find them.
Tips for Buying A Waterfront Lot at Smith Mountain Lake
Here are a few helpful things you can do to facilitate your quest for the perfect waterfront building lot.
Apparel – Many buyers preview lots while dressed in vacation garb. Though you may get hot without your sandals and shorts, it is usually worth it to dress in jeans and boots. This will help you persevere through the underbrush on an overgrown lot and may allow making it to the shoreline when others gave up near the road.
Boat and Car – I strongly recommend that you look at lots by both boat and car. I have found that I can cover about twice as many lots by water. My clients and I can see the approximate view and water depth from a boat without needing to walk the lot. Many lots can be eliminated without spending 20 minutes fighting through the brush. It is also faster to get from lot to lot by boat in most cases. I can show lots on the north and south side of the lake within minutes, yet it may take more than an hour round trip just to drive to these lots. I have found that it is best to narrow down lots by boat on the first day of a property search. On the second day, my clients and I have a shorter list of lots to see by car, and I can often get plats and other information to help us walk the top choices the next day.
Measuring Devices – It is helpful to have measuring devices when reviewing building lots. Because waterfront lots are often irregularly shaped and not well marked, it can be tough to find the boundaries. A laser range finder helps locate the shoreline and roadside boundaries. This wonderful tool is used by golfers and hunters and can be purchased in sporting goods stores. I also recommend that you bring along an outdoor tape measure. These tapes extend a hundred feet or more and are typically on a spool. They help measure off a potential house site. You may be able to borrow one of these from someone in the construction business or buy one from a construction supply store. Your realty agent may have these items as well.
Home plans – Though it is not necessary to have detailed home plans while searching for a lot, it can be helpful to know the approximate style and size of the home you plan to construct. This will help you measure and envision the home site and the views from the main rooms and decks. Be sure to keep in mind the regulations on setbacks from the sidelines and the lake when making your plans.
Depth-Finding Device – Whether you are looking by land or water, it is important to have a way to gauge the depth of the water off the shoreline at the lot that interests you. Since docks can usually be built well off the shore, you should take depth measurements at about 10-foot intervals from the land where you think you may build a dock. Record these measurements on the plat or information sheet on which you are taking notes. Many boats have depth finders, but you can also use a cheap metal tape measure (you will likely ruin it through rust) or even a tree limb, stick, or rock tied to a string if you're in a pinch. I have done all of the above!
Machete – You will not need this on the vast majority of lots but may require one to hack your way through the underbrush on an occasional overgrown lot with no path. Of course, you should not cut down trees or nice plants (keep that machete away from your pre-teen boy!), but most lot owners would not mind you hacking away at a few brier bushes along the way.
Bug Spray, Drinking Water, and Sunscreen – Although in God's kind, providence mosquitoes are mysteriously scarce here at Smith Mountain Lake, we still experience ticks in heavy underbrush. I recommend that clients use bug spray before walking through heavily overgrown lots. You'll need drinking water and sunscreen, although I often seem to forget these items until I am far from a store. Fortunately, there are many waterfront shops at the lake (usually at marinas) and we are typically not far from a store by car.
Extension Ladder – Though I admit I have never done this, I have heard of a lot of buyers who took an extension ladder to a site to help them envision the view from the level of a proposed main floor of a home. Since most lots are sloped, it can be hard to envision what the view would be from a deck or great room. There can be a 15-foot rise from the ground to the eye level at the building site, and this could reveal either a blocked view due to a neighbor's trees or dock or an improved longer view of the water or mountains. Without a large, well-placed tree to lean against, however, the extension ladder idea may not work. Has anyone come up with a portable version of those rolling ladders they use at Lowe's?
In summary, I cannot overstate the importance of taking the time to find the lot that is perfect for you. Extensive research, ongoing review online, correspondence with your REALTOR®, and a time commitment to seeing a wide variety of lots by water and on the ground should help ensure that you make the right choice when you are thinking about Buying A Waterfront Lot at Smith Mountain Lake.
Free Download
The Definitive Guide To Smith Mountain Lake Real Estate
Everything you need to know about buying or selling property at Smith Mountain Lake.