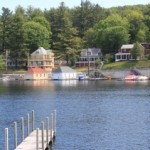 CURB (Cut Unnecessary Regulatory Burdens) recently had its first meeting at Smith Mountain Lake on July 14th. The library was packed with local citizens concerned about issues with AEP regulations. Topics covered were things like Rip Rap permits, vegetation permits, and dock permits. Bill Brush did an excellent job with his PowerPoint presentation and if you would like to view or download it, go to this link.
The meeting received very positive press coverage in the News & Advance, Smith Mountain Eagle, and in Roanoke Times Laker Weekly insert.  Also TV coverage on WSLS Channel 10 and News Channel 7.
The next CURB meeting will be held at the Moneta Library in Bedford County on August 11th, starting at 6:00 PM. The mission is to inform the community and to fight these regulations that trample on basic property rights. Also, there are approx. 7,500 docks on SML – if they can raise AT LEAST $10.00 from each dock owner that's $75,000.  Help to recover your property rights from unwarranted corporate control.  Consider it an investment in your basic property rights.
Please tell your friends and neighbors.  Encourage them to attend the next meeting.  Ask them to visit the website, get informed and register. Neither AEP nor the FERC can withstand an organized, well-funded assault in the Court of Public Opinion, and if necessary in the 4th District Federal Appellate Court.
For more information about CURB, visit curb-ferc-aep.com.
You can call Bill Brush at (540)721-4390.
Contributions can be mailed to Cut Unnecessary Regulatory Burden
81 Lighthouse Lane, Moneta, VA 24121
Free Download
The Definitive Guide To Smith Mountain Lake Real Estate
Everything you need to know about buying or selling property at Smith Mountain Lake.