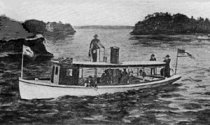 Two fabulous new films are in the making at two separate locations in Virginia.
The first is "The Shoeless Wonders", a true tale of a team of shoeless orphans from Lynchburg, Va. who played fabulous football. Sara Elizabeth Timmins, Producer. Life Out Loud Films LLC Phone: 818-509-0699. www.LifeOutLoudFilms.com
The second is "Chesapeake" starring Keith Carradine and is being filmed in the Chesapeake bay region of Virginia. This story is centered around the threatened Watermen culture of the coastal areas. Contact Info: Amy Quick at amy.quick@arvold.com or by phone at 434-327-9821.
See below for press/media releases:
Life Out Loud Films is in development on a film based on actual
local events
Lynchburg, Virginia (October 2, 2013) – Life Out Loud Films is currently in development on a film based on a true story out of Lynchburg. This news comes on the heels of announcing that its last film, Wish You Well, based on the novel by David Baldacci and starring Ellen Burstyn, Josh Lucas and Mackenzie Foy, and is an Official Selection at the Heartland Film Festival in Indianapolis. The film was shot on location in Giles County and is a collaboration between Life Out Loud Films, Copper Beech Productions and Baldacci Entertainment.
Life Out Loud Films has partnered with the Presbyterian Homes & Family Services and the Family Alliance of Lynchburg to develop a feature film that will tell the true story of The Shoeless Wonders, a barefoot football team of orphans who lived at the Presbyterian Homes and who ruled the Lynchburg gridiron and went unbeaten and unscored on from 1922-1930. This inspirational story is currently in the research and script development stage and is projected to shoot in 2015.
Timmins and her team have been working with PHFS sifting through photographs, uncovering the Home's history and conducting on camera interviews with some of the real Shoeless Wonders and their opponents.
Timmins recalls, "I got chills the first time I heard the Shoeless Wonders' legacy and from that point, I knew it was a story that needed to be told via film. Now that we are in the script development process and have had a chance to meet the real people and hear their inspiring stories, it has been really magical because the script is writing itself and it is rich with honesty and heart."
The film supports Life Out Loud Films' mission to balance business and art to create quality inspiring films that present strong female characters while also making a positive impact behind the scenes. PHFS was founded in 1903 and today provides programs in communities throughout Virginia to help strengthen individuals and families through care, counseling and education. PHFS programs focus on early childhood development, economic empowerment, mental health services, safe and healthy living, and residential care.
For more information about Life Out Loud Films, please visit www.lifeoutloudfilms.com.
Or for more information about PHFS, please visit www.phfs.org.
—————————————————————————————————————————————-
Moving Tale of Loss and Redemption Centers Around Region's Time-Honored Watermen Culture As It Faces Threats From Modern World
Charlottesville, Virginia – Academy-Award winning actor Keith Carradine is slated to star in Chesapeake, a film written and directed by Eric Hurt (Pillage and Plunder Pictures).  Produced by Erica Arvold (Arvold Productions) and Sara Elizabeth Timmins (Life Out Loud Films), the film is projected to shoot in Virginia and the Chesapeake Bay region in 2014.   The production is currently in development, and producers are continuing to raise funds and prep for preproduction.
"The first thing that attracted me to Chesapeake [the film] was the script: it's a classic story of loss and redemption," says Carradine, "There's something so ultimately affirming about this story, and I want to be a part of things that do that.  I think we have something really good here."
The drama centers around an isolated waterman whose solitary life is profoundly changed when he saves a young boy from drowning.  Using underwater photography and 360 degree views of the area, writer/director Hurt's vision is built around showcasing the spectacular settings of the area.
"The catalyst for me was the Chesapeake Bay's watermen culture," says Hurt. "When I hear their stories and see the integrity and dedication the watermen bring to their lives and work, I am inspired to build and tell a story like this one, and to create a genuine setting where these fictional characters live."
Research and on-the-ground experience has been crucial to the development and authenticity of the project.  Hurt continues, "I've been amazed at the support and encouragement we have received and continue to receive from so many people and organizations, from the individual watermen we've met to the Chesapeake Bay Foundation and the Virginia Film Office, who have been with us every step of the way and who are integral to this process."
"This project is a perfect representation of what Virginia film is all about," said Andy Edmunds, Director of the Virginia Film Office. "You have a homegrown team that has a great deal of experience on bigger films, and they combine their skill and dedication as filmmakers with a boundless passion not only for their story, but for the place where they are telling it. It's a win-win for us, and a proven formula for making a really good film."
Writer/director Eric Hurt's most recent feature, House Hunting, was filmed in Charlottesville, VA and is currently in worldwide distribution.
Erica Arvold, Virginia casting director for Spielberg's Lincoln will cast and produce Chesapeake.  Arvold also cast and produced Hurt's House Hunting.  She brings over 20 years of work on studio and independent features.  Since moving to Charlottesville, she has focused on Virginia filmmaking, with casting credits that include Killing Lincoln, Wish You Well, Lake Effects and the upcoming Killing Kennedy.
Sara Elizabeth Timmins has been producing films for over a decade.  She produced the Hallmark Channel movie Lake Effects and her most recent project was Wish You Well, a feature film written by David Baldacci and premieres at the Heartland Film Festival October 19th.  Both films were shot in Southwest Virginia, and her vision and drive to involve the community in the production process resulted in lasting relationships and a positive economic impact on Virginia.
"Our approach to filmmaking is to create a collaborative environment and a fulfilling experience for everyone involved, especially the community" notes Timmins, "we have met some of the most enthusiastic and welcoming people on our visits to the Eastern Shore."
Arvold says,  "From the moment I read the script, I was hooked.  We are currently in the process of meeting with investors, lining up resources and partnerships, and aligning ourselves with potential distribution companies.  And, knock on wood, we are well on our way!"
www.chesapeakethefilm.com Amy Quick, Coordinating producer arvold c: 434.327.9821  amy.quick@arvold.com  www.arvold.com