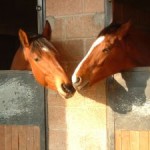 Perhaps you have heard of Smith Mountain Lake's Unbridled Change Therapy Program.  If so you may also have wondered exactly what sort of operation it is and what they are about.  According to their website, they provide mental health therapy and educational learning utilizing horses.
If you like horses and would like to learn more about this unique therapy program, you can join others for a free farm tour of Equine Assisted Activities & Therapies (EAAT). The tour will take place on Saturday, Nov. 21st from 2:00 – 3:30 pm.
You will meet both staff & horses and experience what EAAT is all about.  For more information visit our website www.UnbridledChange.org  or call (540) 719-2171.
(You can help raise scholarship funds for Unbridled Change by dining at Wendy's in Rocky Mount on Nov. 11th between 5 and 8 p.m. They will donate 10% of the proceeds to Equine Therapy at the farm.)