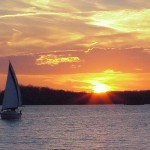 Smith Mountain Lake's current claim to fame, the production of the movie, "Lake Effects", has reached a turning point. The filming has been completed (on schedule) and is currently in the final editing process in Los Angeles. You can see a list of cast/crew credits and other details on the Life Out Loud Films website.
The producers of the award-winning film team for Lake Effects and the Roanoke Symphony Orchestra Music Director, David Stewart Wiley, have announced that the RSO will record a portion of the music for the film. The music by the 57-year-old Roanoke Symphony Orchestra, which performs recordings for national distribution and collaborates with international stars in the classical and pops world, will be inserted into the film during the coming month.
Maestro Wiley commented "It is exciting for our professional musicians to be a part of this feature film.  Rather than use a studio orchestra from L.A. or New York, the producers and directors have recognized the treasure that we have here in Virginia with the RSO.  This project will help bring even more awareness to the remarkably high quality of music in our region, and we are thrilled to collaborate on this project."
Film Producer Sara Elizabeth Timmins commented: "Lake Effects" has exceeded all of our expectations, with major talent like Jane Seymour, a truly stellar cast, and now the Roanoke Symphony Orchestra!"
Exciting stuff folks! I don't know about you but I am greatly looking forward to seeing the finished product!