Lynchburg, Virginia (May 20, 2015) – In celebration of its DVD and VOD release, Wish You Well will be screened on Tuesday, June 2 at four theaters across Virginia: The Grandin Theatre (Roanoke), Westlake Cinema (Hardy), The Byrd Theatre (Richmond) and Alamo Drafthouse Cinema (Ashburn). All screenings will begin at 7:00 p.m.; doors will open at 6:00 p.m. A Q&A session with writer/producer David Baldacci and producer Sara Elizabeth Timmins will follow the Roanoke screening; a Q&A with actor JP Vanderloo will follow the Ashburn screening. Seating is limited; tickets can be purchased in advance at https://wishyouwell.ivolunteer.com/kickoff. The first 30 people to arrive at each theater will receive a free Wish You Well poster.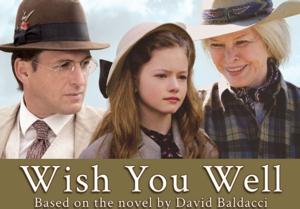 Filmed entirely on location in Giles County, Va., Wish You Well was adapted from David Baldacci's bestselling novel of the same title. After a family tragedy, a young girl moves from New York with her younger brother to live with their great grandmother on a Virginia farm and comes closer to understanding the land and roots that inspired her father's writings while discovering herself, the love of family, and the power of truly believing.
The film stars Academy Award winner Ellen Burstyn (Alice Doesn't Live Here Anymore, Interstellar), Mackenzie Foy (The Twilight Saga, Interstellar), and Josh Lucas (Sweet Home Alabama). It was directed by Darnell Martin (Cadillac Records) and produced by Sara Elizabeth Timmins of Life Out Loud Films, David Baldacci, and Karen Spiegel of Copper Beech Productions.
Wish You Well will be released in the United States on DVD and VOD by Entertainment One Ltd. Mission Pictures will distribute the film internationally.
For more information about Wish You Well and future updates on where DVD's can be purchased nationally, please like us on Facebook.