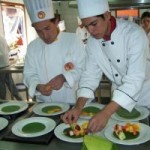 Virginia Western is a bit of a drive from Smith Mountain Lake, but not too much to make it a worthwhile one with the right incentive.
Cooking does not interest every one of course, but those who are caught in its grip, are true admirers. The nice thing about the Culinary Courses at Virginia Western is that you can go all the way and get a culinary certification, or you can just take a class and impress the heck out of your next dinner guests.
The course offerings this fall cost $40 each and are as follows:
Going, Going, Gone! Meals in Minutes – Thursday, September 17   Come learn how easy it is to plan a week of meals by pre-prepping foods.
Sassy Sushi – Thursday, October 1   Not your ordinary fish and rice. This class will reveal the simplicity of sushi preparation.
Authentic  Italian – Thursday, October 8  With family roots in Italy, Chef Berardi knows authentic Italian cuisine.
Diabetic/Gluten-Free Treats – Thursday, October 22  Liven up recipes that won't wreak havoc on your blood sugar or aggravate food allergies.
Holiday Pie Party – Thursday, November 12  Pie dough made easy, real fruit fillings, and peaks of whipped goodness prevail in this class.
 Party Panache – Thursday, December 3 At your next holiday gathering or New Year's Eve bash enjoy fun finger foods you never thought could be so easy to prepare.
You can get all the details for yourself by calling 540-857-6210 or at  http://www.virginiawestern.edu/.