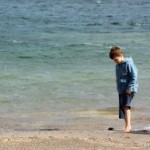 Many people who visit Smith Mountain Lake are surprised that the water levels do not fluctuate much. Other man-made lakes, controlled by power companies, see significant, regular fluctuations. Lake Norman, in North Carolina, fluctuates so much that, in some cases, docks have to be built on a pivoting mechanism more than 100 ft. from shore. Homeowners there say they are often looking at a mud bowl in the winter rather than a beautiful lake. The long piers and docks are sometimes sitting in the mud, and their boats are sitting in storage.
I remember back in the winter of 2007, many of us were seeing pictures in the news of Lake Lanier, near Atlanta, which had become a virtual dried-up mud hole with grass growing hundreds of feet out from the normal shoreline. There were reports that Atlanta would lose its water supply if the rain didn't come soon. Five million people held their breath to see what would happen.
Due in part to the outstanding design of the Smith Mountain Lake hydroelectric system, we enjoy relatively stable water levels. Most boathouses are built close to shore and don't require a swivel mechanism for fluctuating lake levels. To my knowledge, water levels have never dropped to a level in which the enjoyment and functionality of the lake are significantly impacted by most people.
Note that our neighbor, Leesville Lake, offers properties at significantly lower prices than Smith Mountain Lake. Leesville Lake, however, experiences fluctuation in water levels – up to six feet above or below normal lake level. If you want to save money and don't mind this fluctuation, Leesville Lake is a pretty place to live.
If you are interested in property at Smith Mountain Lake or Leesville Lake we would be happy to help you find the perfect match.
Free Download
The Definitive Guide To Smith Mountain Lake Real Estate
Everything you need to know about buying or selling property at Smith Mountain Lake.