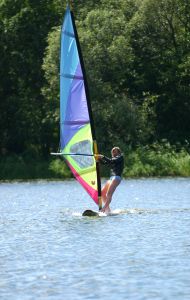 If you have ever thought it looked fun to surf the waves, but just a little out of your league, then WindSurfing may be just the thing for you. And even better still, you don't have to plan for a vacation or travel hours to get to the beach to enjoy this kind of surfing, you can do it right here at Smith Mountain Lake!
Many beginners are up and sailing upon the completion of their first lesson, so this is not rocket science. You begin with the basics, familiarizing yourself with the equipment, how and where to stand, and how to raise and operate the sail. A good sense of balance is one of the main things required, but you don't have to be especially athletic or have any sailing experience. While there are lots of things to learn, it is a sport that almost anyone can participate in!
You can buy the whole setup for Windsurfing new for $1000 to $3000, but most seasoned experts recommend that you don't invest that kind of money till you have tried it for a while. Like many things, it is not for everyone and it could take a few lessons and outings to be sure if the investment is worth it for you.
If you are interested in possibly joining a group of wannabe windsurfers at Smith Mountain Lake this summer, you can email  liana.arias@live.com.
Cathy Hurst, commodore of the VISA Yacht Club, hopes to host demo/training sessions this spring and summer. Readers can get on a contact list by calling 540-989-0279 or visiting visayc.org.
Free Download
The Definitive Guide To Smith Mountain Lake Real Estate
Everything you need to know about buying or selling property at Smith Mountain Lake.