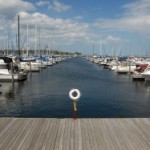 I'm writing today to tell you about the perfect place to rent a boat at Smith Mountain Lake.
Recently, my son, Jonathon, turned 18.  It was a big day for him, and we wanted to do something special as a family. Something our family wouldn't forget. Something different. We considered renting a houseboat but that wouldn't satisfy our desire for speed. Thought about Sea-Doos, but we wanted to stay together as a family all day.
I called my friend, Roy Enslow, over at Bridgewater Marina. Roy set our family up with just the perfect boat.  And we had the perfect day together.
I always recommend Bridgewater to all of our clients without any hesitation. Not only are they the most conveniently located rental place on the lake (right at Hales Ford Bridge), but they have the best service I have experienced. They seem to care about their client's needs and safety. They were kind to my children and they made sure we understood everything about the boat.
We had a great time touring the lake and even found a new island we'd never been to. I could go on and on, but I can do better. Below is a video of our family out on the lake. Enjoy it!  http://www.youtube.com/watch?v=D0f-oEAa43o
If you want to create your dream day on the lake, call Roy and his team of first-class staff at (540) 721-1639 or visit them online at www.BWMarina.com. Tell them Paul Moore sent you.
Free Download
The Definitive Guide To Smith Mountain Lake Real Estate
Everything you need to know about buying or selling property at Smith Mountain Lake.