Smith Mountain Lake and surrounding area is most popular in the summertime for water sports, vacationing, fishing tournaments and so forth. But there are also many wonderful winter attractions and fun activities at the lake during winter months as well. Bundle up warm and come out to enjoy some of these fabulous cold weather events at the lake and it's surrounding counties! Below are just a few you could choose from.
~ The Harvester Performance Center in Rocky Mount, Franklin County, VA. – This is a new and exciting live music performance center. Large enough for good size crowds of nearly 500 in the main room (plus a lower level); a 40 ft. stage with state of the art lighting/audio, etc. and offering performances in a variety of genres. In Jan. and Feb. 2015 you can enjoy great groups such as: The Embers, Marshall Crenshaw & The Bottle Rockets, The Wildfire Band and much more. See the complete Harvester Calendar here www.harvester-music.com/.
~ Sontag Disc Golf Course will be hosting the The Brawl Disc Golf Tournament on Feb. 7th. What is Disc Golf you may wonder? Disc golf is a game somewhat similar to traditional golf. However, instead of a ball and clubs, a concave plastic disc is thrown into metal baskets situated on an outdoor course. The sport became popular in the 1970's, and just like in regular golf, the object is to complete the course with the fewest throws. This tournament is part of a series that includes four division: Pro, Ladies, Amateur and Junior and does involve fees. Contact Jeff Peters at jpeters@uttermost.com for more details. (Picture Credit – "Disc golfer and basket" by Steve Ganz – http://www.flickr.com/photos/steveganz/11559175/. Licensed under CC BY 2.0 via )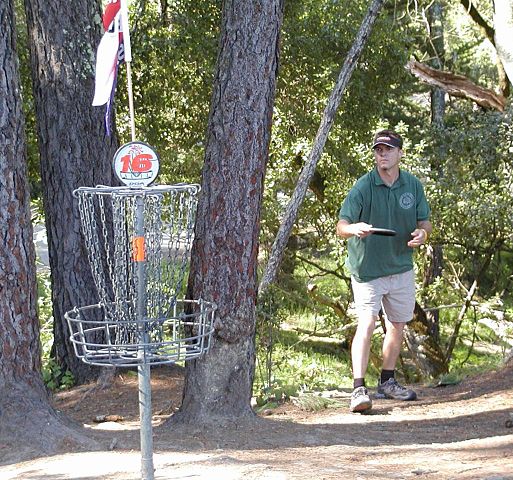 ~ SoVA (Southern Virginia Wine Trail) will be having it's Winter Wine Fest on Feb. 21st in Danville, VA. Twelve Virginia farm wineries will offer tastings from 11 a.m. to 5 p.m. in a heated the indoor arena at Danville Community Market. Good food and live music from Firecracker Jam of Lynchburg. For Ticket Prices and other available information visit  Sova Wine Trail.
~ Southwest VA Boat Show 2015 – The Southwest Virginia Boat Dealers Association has hosted the Annual SWVA Boat Show for over 30 yrs. This years Boat Show will be at the Roanoke Civic Center February 20th through February 22, 2015. The event has grown tremendously over the last couple of years and represents a unique opportunity to see every dealer and boat on Smith Mountain Lake. The event will have a Free Admission Friday….for more on other admission fees and info. go to  http://www.roanokeboatshow.com/. (Picture Credit – "Sea Isle Marina Miami Florida left 20100213" by Averette – Own work. Licensed under CC BY 3.0)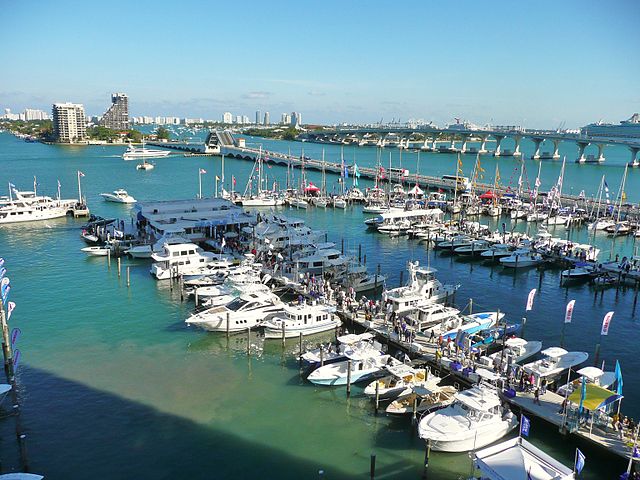 ~ The Red Valley Community Center in Burnt Chimney, VA will feature a live Bluegrass Concert by Johnathan Dillon & Friends. The concert will take place on Jan. 31st from 6pm to 8:30mp. Refreshments will be available for purchase. Admission $10 at the door. For more info call 540-537-3415
~ Virginia Museum of Natural History in Martinsville, VA offers a chance to spend time with the Dinosaurs! On Saturday, January 24th, the museum's Dino Day festival will feature exciting, NEW life-sized dinosaur skeleton casts! Marvel at real dinosaur fossils from the museum's collections! Play dino-themed games and create dino-crafts! Witness special presentations by dinosaur experts! Did we mention animatronic dinosaurs?! Dino Day is sure to be a festival of Jurassic proportions! Visit www.vmnh.net to get more details and info.